Phillips screwdrivers
Phillips screwdrivers
The outstanding design of the Phillips screwdrivers that fit perfectly into the hand prevent hand injuries such as blisters and calluses even when used for longer periods. The materials used for the handle ensure rapid hand repositioning without any danger of the skin "sticking" to the handle and the loss-free transfer of torque. The microscopically roughened surface of the tips of the Lasertip Phillips screwdrivers literally "bites" itself into the screw head and ensures a secure fit of the Phillips screwdrivers in the screw. The Wera Black Point tip and a refined hardening process guarantee long durability, enhanced corrosion protection and an exact fit of the Phillips screwdrivers in the screw. Other product features like the non-roll design to prevent any annoying rolling away of the Phillips screwdrivers at the workplace or the hexagonal bolster, which allows more power to be transferred with the application of a ring or open-jaw spanner, make Wera Phillips screwdrivers the perfect tool for professional users.
Phillips screwdrivers by Wera are just the right tool, also for your requirements!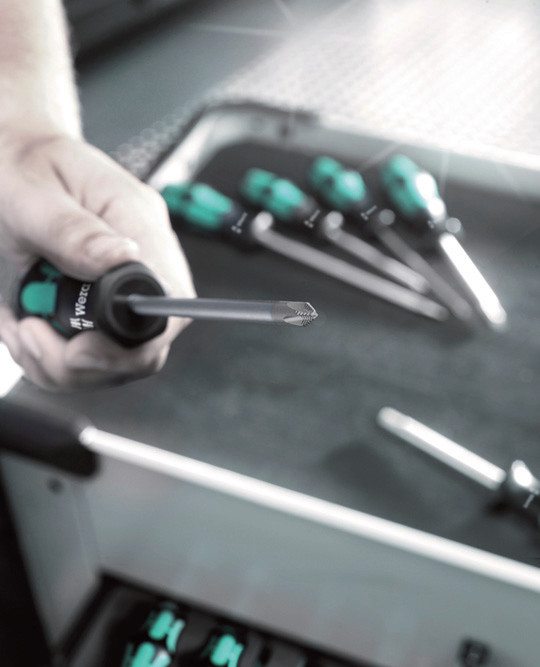 The tools
The Tool Rebels recommend:
Due to your browser settings, you were forwarded to the language "EN".
You can change it at any time with
We respect your privacy
Some features of this website need your consent.
Cookies and services necessary for the functionality of the website. These cannot be deactivated!

Information is transferred to here.com

Information is transferred to youtube.com
For geolocation, we use a geodatabase.

Information is transferred to scanblue.com for Wera Augmented Reality (AR)

Information is transferred to my.matterport.com