Wera 2go Tool transport system
Wera 2go Tool transport system
We wanted to provide our textile boxes and pouches with a mobile home. After all, increasingly more users are more often out and about with their tools and they frequently complain about too much weight. So we started searching for an idea which would keep the hands free during walking and with which one could dock and undock the required tools very easily. The Wera 2go 1 is the super lightweight and mobile Tool Carrier for all Wera pouches and textile boxes equipped with hook and loop fastener on their reverse sides. The pouches and boxes are easily and securely attached individually to the tool carrier. The hands remain free during transport thanks to the shoulder strap that is included. The Wera 2go Tool Container is the ideal solution for individual and convenient tool transport thanks to its hook and loop fastener system and its compactness. The inner and outer hook and loop fastener zones ensure a maximum in terms of space utilisation. This means that an incredible number of tools can fit in and on the container. Wera 2go 2 ensures a low weight since only the tools really needed for the job are taken along. The compact Wera 2go Tool Box can be filled with tools and spare parts and can be docked with the Wera 2go 1, 2 and 5 articles. The Wera 2go 4 Tool Quiver with an individually adjustable partition for screwdrivers and other tools. Shoulder Strap for the Wera 2go tool transport system. It comes with extra wide, comfortable padding sections and adjustable strap length and is suitable for use with the Wera 2go 1 and 5 articles.
Wera 2go are just the right tools for your requirements.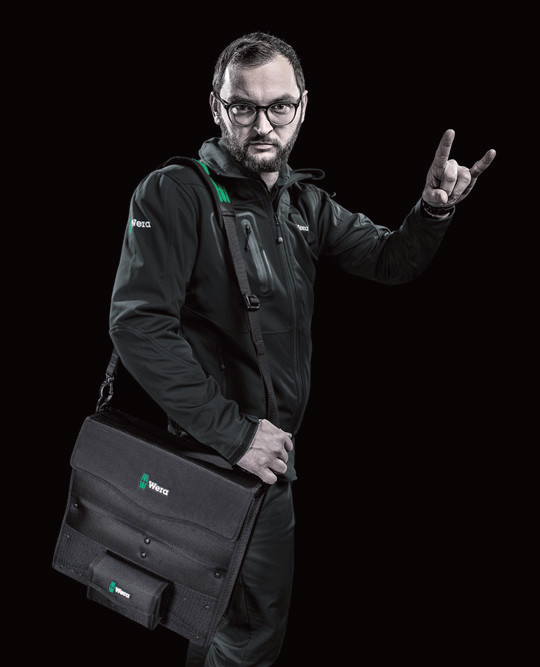 The tools
The Tool Rebels recommend:
Due to your browser settings, you were forwarded to the language "EN".
You can change it at any time with
We respect your privacy
Some features of this website need your consent.
Cookies and services necessary for the functionality of the website. These cannot be deactivated!

Information is transferred to here.com

Information is transferred to youtube.com
For geolocation, we use a geodatabase.

Information is transferred to scanblue.com for Wera Augmented Reality (AR)

Information is transferred to my.matterport.com